www.tedeschitrucksband.com
TEDESCHI TRUCKS BAND:
Derek Trucks (Guitar)
Susan Tedeschi (Guitar, Vocals)
Tim Lefebvre (Bass)
Kofi Burbridge (Keyboards, Flute)
Tyler Greenwell (Drums)
J.J. Johnson (Drums)
Mike Mattison (Vocals)
Mark Rivers (Vocals)
Alecia Chakour (vocals)
Kebbi Williams (Saxophone)
Ephraim Owens (Trumpet)
Elizabeth Lea   (Trombone)
TEDESCHI TRUCKS BAND TOUR ITINERARY
2017 Itinerary
1/13  Mobile, AL                  Saenger Theatre
1/14  St. Petersburg, FL      Sunshine Music Festival/Vinoy Park ^
|1/15  Boca Raton, FL          Sunshine Music Festival/Mizner Park ^
1/17  Memphis, TN             Orpheum Theatre +
1/19  Chicago, IL                 Chicago Theatre +
1/20  Chicago, IL                 Chicago Theatre
1/21  Chicago, IL                 Chicago Theatre
1/23  Columbus, OH            Palace Theatre  +
1/25  St. Louis, MO              Peabody +
1/26  Knoxville, TN              Tennessee Theater &
1/28  Chattanooga, TN        Tivoli Theater &
1/29  Savannah, GA            Johnny Mercer Theatre
2/23  Washington DC           Warner Theater   – sold out
2/24  Washington DC           Warner Theater  – sold out
2/25  Washington DC           Warner Theater – sold out
2/28  Charleston, WV           Charleston Municipal Auditorium %
3/2  Nashivlle, TN                 Ryman % – sold out
3/3  Nashville, TN                 Ryman  – sold out
3/4  Nashville, TN                 Ryman – sold out
3/17 – 4/8  Europe
5/27 Jacksonville, FL           Daily's Place Amphiteater@@
5/28 Orlando, FL                  Dr. Phillips Center for the Performing Arts @@
6/8  Philadelphia, PA            Merriam Theater
6/9  Philadelphia, PA            Merriam Theater
6/10 Philadelphia, PA           Merriam Theater – sold out
6/13 Augusta, GA                   William B. Bell Auditorium
6/14 N. Charleston, SC          North Charleston Performing Arts Center
6/16 Wilmington, NC            Greenfield Lake Amphitheatre – sold out
6/17 Selbyville, DE                Freeman Stage at Bayside – sold out

+ w/ North Mississippi Allstars opening
& w/ Jack Pearson opening
% w/ Jorma Kaukonen opening
^   Festival line up incl. Joe Russo's Almost Dead, Mavis Staples, Bruce Hornsby, Railroad Earth, North Mississippi Allstars, The Greyhounds
@@ Jon Cleary opening

WHEELS OF SOUL 2017
with Hot Tuna and The Wood Brothers
7/1  – Gilford, NH – Bank of NH Pavilion
7/2 – Essex, VT – Midway Lawn
7/3 – Saratoga, NY – Saratoga Performing Arts Center
7/5 – Vienna, VA  – Wolf Trap 
7/7    Providence, RI   PPAC
7/8  – Rochester, NY – Highland Bowl
7/9 – Simsbury, CT – Simsbury Meadows Performing Arts Center
7/12  – Virginia Beach, VA – Veterans United Home Loans Amphitheater
7/14  – Raleigh, NC – Red Hat Amphitheater
7/15  – Atlanta, GA – Fox Theatre
7/16 –  Charlotte, NC – Charlotte Metro Credit Union Amphitheatre
7/19  – Indianapolis, IN – Farm Bureau Insurance Lawn
7/21 – Cincinnati, OH – PNC Pavilion at Riverbend Music Center
7/22  – Huber Heights, OH – Rose Music Center
7/23  – Rochester, MI – Meadow Brook Amphitheatre
7/25 – Rogers, AR –  Walmart Arkansas Music Pavilion
7/27 – Albuquerque, NM – Sandia Casino
 7/29  – Morrison, CO – Red Rocks Amphitheatre
 7/30  – Morrison, CO – Red Rocks Amphitheatre
8/2  – Bonner, MT (Missoula) – Kettlehouse Amphitheatre

TEDESCHI TRUCKS BAND – FALL ITINERARY
9/16  New Orleans, LA  Saenger
9/21  Houston, TX  Hobby Center for the Performing Arts *
9/22  Dallas, TX  Music Hall at Fair Park *
9/23 Austin, TX  ACL Live at Moody Theater *
10/6  New York, NY  Beacon Theatre  With Greyhounds
10/7 New York, NY  Beacon Theatre – 2 sets, no opener
10/10 New York, NY  Beacon Theatre – With The Wood Brothers
10/11 New York, NY  Beacon Theatre – With North Mississippi Allstars "25th Beacon Show"
10/13 New York, NY  Beacon Theatre 2 sets, no opener
10/14 New York, NY  Beacon Theatre 2 sets, no opener
*with Hard Working Americans
CURRENT PUBLICITY PHOTOS
Click on an image below to display and then save a high-resolution version.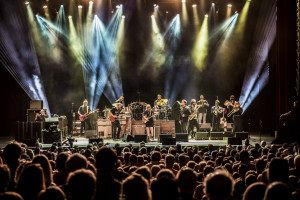 photo credit Stuart Levine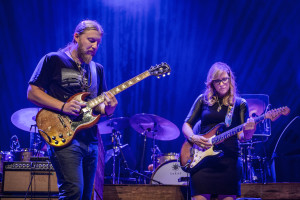 photo credit Stuart Levine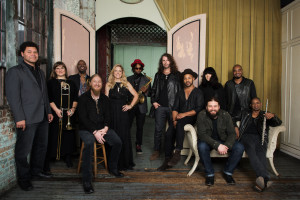 photo credit Tab Winters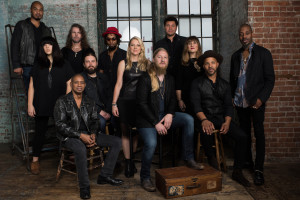 photo credit Tab Winters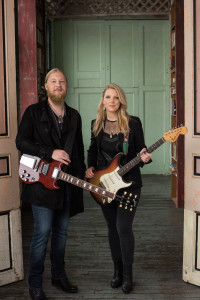 photo credit Tab Winters

photo credit Stuart Levine
2017 BIO/ PRESS RELEASES
Wheels of Soul 2017 Press Release
Beacon Theatre 2017 Announce 5_8_17
TTB – 2017 Short Bio

Live From the Fox Oakland Release PR
Live From the Fox Oakland Liner Notes
===================================
RECENT INTERVIEWS:
Jacksonville Times Union – 5/25/17
http://jacksonville.com/entertainment/music/2017-05-25/tedeschi-trucks-band-perform-jacksonville-s-new-daily-s-place
Orlando Sentinel – 5/23/17
http://www.orlandosentinel.com/entertainment/et-cetera/os-et-tedeschi-trucks-orlando-20170521-story.html
Folio Weekly – 5/22/17
http://folioweekly.com/stories/victory-lap,17546
Knoxville 1/18/17
http://www.thedailytimes.com/entertainment/the-road-goes-on-forever-tedeschi-trucks-band-keeps-it/article_85fa8e2f-7d0c-5a01-b270-6abe2c9a179a.html
VIDEO CLIPS:
Videos:

2016 – BIO/ PRESS RELEASES
December 2016 Year End Wrapttb_decemberwrappr12_8_16
August 2016 PR   ttb_westcoastprfinal
Tedeschi_Trucks_Band_-_Let_Me_Get_By_-_BIO_FINAL_
TTB_Debuts_with_Critical_Acclaim_and_Impressive_Sales_-_FINAL
TTB_-_WheelsOfSoul2016_-_PR_-FINAL

ttb_beaconprjune2016
TTB_-_Let_Me_Get_By_-_Album_Announce_FINAL_
ADDITIONAL PRESS KIT THINGS HERE VIA CONCORD/FANTASY
http://mediakits-showcase.concordmusicgroup.com/p/let-me-get-by/index.html
PRESS

Check out NPR's Tiny Desk Concerts
Watch "Anyhow" Live in Studio
Read New Yorker profile
SiriusXM Ch. 23 "Tales from the Golden Road"
Interview w/ Derek Trucks 12/18/16
THE DAY NEWSPAPERS (CT)  – 10/26/16
http://www.theday.com/article/20161026/ENT10/161029437
SPRINGFIELD REP – 10/25/16
http://www.masslive.com/entertainment/index.ssf/2016/10/derek_trucks_talks_about_lates.html
LIVE FOR LIVE MUSIC – Beacon Theatre concert review 10/5
http://liveforlivemusic.com/reviews/feelin-alright-tedeschi-trucks-band-welcomes-dave-mason-eric-krasno-beacon/
BEND BULLETIN 9/8/16
http://www.bendbulletin.com/entertainment/4626623-151/tedeschi-trucks-band-to-play-athletic-club-of?referrer=bullet2
BILLBOARD  (BB King event review)
http://www.billboard.com/articles/news/7495965/bb-king-was-the-man-slash-kenny-wayne-shepherd-keb-mo-more-salute-the-blues
General LET ME GET BY album interviews:​
Chicago Tribune
http://www.chicagotribune.com/entertainment/music/kot/ct-ott-0122-tedeschi-trucks-20160118-column.html
Relix cover feature:
http://www.relix.com/articles/detail/tedeschi_trucks_band_a_joyful_noise
Wall Street Journal
http://www.wsj.com/articles/the-tedeschi-trucks-band-recharges-after-the-allman-brothers-1452788818
WHEELS OF SOUL related  interviews:
PORTSMOUTH HERALD – 7/14/16
http://www.seacoastonline.com/article/20160714/NEWS/160719566/0/SEARCH
BOSTON HERALD 7/9/16
http://www.bostonherald.com/entertainment/music/2016/07/tedeschi_trucks_ramps_up
WAMC "Roundtable"
http://wamc.org/post/tedeschi-trucks-band-ready-northeast-run#stream/0
TIMES HERALD RECORD 7/14/16
http://www.recordonline.com/entertainmentlife/20160714/tedeschi-trucks-band-at-bethel-woods-wednesday
​WDST 7/19/16
http://bit.ly/29KbyoU
DAYTON CITY PAPER 7/26/16
WDET  7/27/16
http://wdet.org/posts/2016/07/27/83558-gettin-political-with-derek-trucks/
WHEELS OF SOUL Concert Reviews
Oakland Press, Michigan   (concert review) 8/1/16
http://www.theoaklandpress.com/arts-and-entertainment/20160801/review-tedeschi-trucks-bands-wheels-of-soul-tour-rolls-at-freedom-hills
"The best musical hang of the season…a celebration of kindred creative spirits that's driven by a genuine musical generosity, both with each other and for the audience…The music and the musicianship provided all the spectacle and sizzle the night needed and left anyone at Freedom Hill hoping the Wheels Of Soul will roll back this way next summer."
Raleighmusic.com  (concert review) 7/24/16
http://raleighmusic.com/articles.asp?aid=6483
"An evening of full musical delight…Demonstrating his prowess with the slide, Trucks made his Gibson speak the language of the "blues" …he is also a great bandleader who knows when to give others the spotlight and allow them to shine. Add in a steady dose of Tedeschi's powerful and soul cleansing vocals to go along with the guitars, horns and percussion – and you have the ingredients for "magic" to happen before your very eyes and ears."
Charlotte CLTure   (concert review) 7/26/16
Tedeschi Trucks took us to church, with a little help from a friend (Gregg Allman)

"The last time I visited the Uptown Amphitheater, Hozier took me to church. The Tedeschi Trucks Band offered a similar, near-religious experience Sunday night."
Glide Magazine  (concert review) 7/21/16
http://www.glidemagazine.com/167065/tedeschi-trucks-band-los-lobos-north-mississippi-stars-evoke-spirit-69-bethel-woods-show-review/
"Evoke spirit of '69…This was a group that had a historical understanding of the music they play, self-evident in their tasteful covers that they played but also in original material like "Made Up Mind," "Don't Know What It Means" and "The Storm." Drawing from influences ranging from John Coltrane to Stax recordings to Led Zeppelin, the band somehow found a way to bring all of these diverse elements together and create a vibrant sound, rich in harmony and texture.
 – 2015- 2015 – 2015 – 2015
Press Assets
Click on an image below to display and then save a high-resolution version.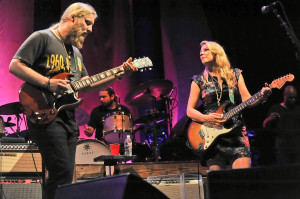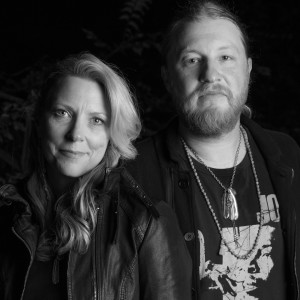 photo credit: Josh Senseri
10/5/15 Sunshine Music Festival PR SUNSHINEMUSIC_2016AnnouncePR
9/16/15 PR 2015 TTB Tour PR 9_16_15
Lockn' Music Festival – TTB Tribute to Joe Cocker: Mad Dog Recap PR4
TTB Beacon 2015 PR 7_27_15REMINDER
4/8/15 2015 TTB Tour PR SummerStag
TTB 2014 Tour PR 10_16_14
TTB Release Made UP Mind Chart
2014 Blues Awards Win PR 5/6/14
WarrenHaynes_and_DerekTrucks_Depart_ABB_PressStatement
Press Clips
Music Radar – 10 Questions with Derek Trucks
AL.com (Huntsville Times) 10_9_15
AM New York 9_22_15 (interview w/ Derek re: Beacon)
Erie Reader 9_16_15 ( interview w/ Derek)
Derek Trucks on Joe Cocker Tribute at Lockn' – Rolling Stone
Relix_LocknJoeCockerTributeReview

Buffalo News -Concert Review 8_5_15
Glide Magazine 6_8_15 (feature interview w/ Susan)
Derek Trucks on BB King-Rolling Stone
Jambase, Catching up with Derek Trucks
Minneapolis Star Tribune concert review 6_20_15
Santa Barbara Independent  6_9_15 concert review
Cleveland Plain Dealer (feature w/ Derek)
UltimateClassicRock.com (feature interview w/ Derek)
Denver Westword concert review
New Orleans Times Picayune – JazzFest review 4_25_15
Reading, PA interview w/ Susan 4_16_15
Savannah feature w/ Derek 4_14_15
Washington Life Magazine Feb '15 (DT)
Houston Press (feature w/ Susan)
SFBAMmagazine.com 6_8_15 concert review
Rolling Stone (tour preview w/ Derek + video)
LIVE PERFORMANCE SPOTIFY SESSION  w/ Derek, Susan, Sharon, Doyle
American Songwriter May/June 2015  (interview w/ Derek & Susan)
Billboard 4_1_15 (tour preview w/ Derek + video premiere)
Jambands.com Central Park video 5_18_15
Boston Globe – Derek's Five Favorite Singers 12-11-14
Los Angeles Times concert review 11/3/14
Houston Press (feature w/DT)
San Diego Union Tribune (feature w/ DT)
Jambase – Beacon Theatre review 9_26_14
SyracuseShowReview9_24_14
TTB_RochesterCover9_25_14  (feature w/ DT)
AquarianWeekly9_17_14  (feature w/ ST)
Guitar Player concert review by Kenny Lee Lewis
Atlanta Journal Constitution (feature w/ ST)
Salt Lake Tribune  (concert review 7/23/14)
Ottawa Citizen  (concert review  6/23/14)
TTB_SanLuisObispoTribuneTicket 08-07-14 (feature w/ ST)
Rolling Stone INDIA (cover feature w/ DT
Grand Rapids Press (feature w/ DT)
Las Vegas Weekly (feature w/ ST)
EUROPE
WHEELS OF SOUL Summer Tour 2015

Tedeschi Trucks Band with Sharon Jones and the Dap-Kings and Doyle Bramhall II  (see itinerary below)
WHEELS OF SOUL TOUR PRESS KIT
(click back button on brower after linking to article to return to this page)

Wheels of Soul Tour Press Release (updated 6_8_15)
***Link to SHARON JONES PRESS KIT ***
Click on an image below to display and then save a high-resolution version.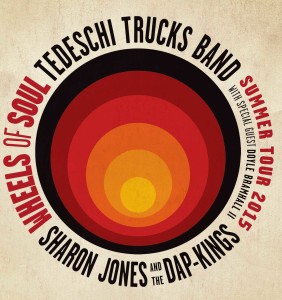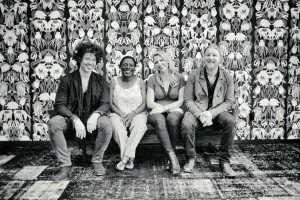 left to right: Doyle Bramhall II, Sharon Jones, Susan Tedeschi, Derek Trucks
photo credit:  Gregg Greenwood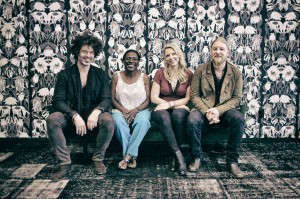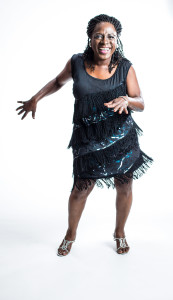 Sharon Jones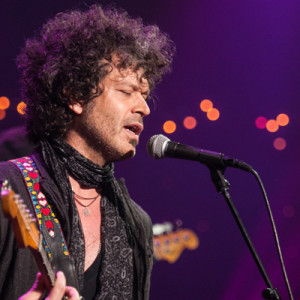 Doyle Bramhall II
PREVIOUS 2015 DATES
1/16    Jacksonville, FL             Florida Theatre
1/17    St. Petersburg, FL          Sunshine Blues Festival  – Vinoy Park
1/18    Boca Raton, FL              Sunshine Blues Festival – Mizner Park Amphitheatre
1/22  Birmingham, AL             Alabama Theatre
1/23 Chattanooga, TN             Tivoli Theatre
1/25 Knoxville, TN                  Tennessee Theatre
2/12 + 13  Nashville, TN         Ryman
2/15 Wilkes Barre, PA             FM Kirby Center
2/17 Wilmington, DE              Grand Opera House
2/19 Greensburg, PA              Palace Theatre
2/20 + 21 Washington DC     Warner Theatre
2/25 N. Charleston, SC           N. Charleston Performing Arts Center
2/26 Pensacola, FL                  Saenger Theater
2/27 Macon, GA                       Macon City Auditorium
3/27 Salina, KS                         Stiefel Theatre
3/28 Madison, WI                   Orpheaum Theatre
3/29 St. Louis, MO                   Peabody Opera House
4/1 Shreveport, LA                   The Strand Theatre
4/2   Memphis, TN                   Orpheum Theater
4/3   Tulsa, OK                          Brady Theater
4/16  Torrington, CT                    Warner Theatre
4/17  Reading, PA                         Santander Performing Arts Center  w/ Kristina Train
4/18 Arrington, VA                      Blue Ridge Bowl at Lockn' Farm
4/21 Melbourne, FL                      Maxwell King Center for the Performing Arts  w/ Kristina Train
4/22 Savannah, GA                     Johnny Mercer Theatre w/Kristina Train
4/24 New Orleans, LA     Jazz & Heritage Festival
5/13 Kalamazoo, MI                      Kalamazoo State Theatre
5/14 Carmel, IN                 The Palladium at the Center for Performing Arts
5/16 Livingston, MS                     Livingston LIVE
5/18 New York, NY                       Central Park SummerStage
9/10-13 Arrington, VA   Lockn Music Festival – 2 shows.
Wheels of Soul Summer Tour 2015
Tedeschi Trucks Band with Sharon Jones and the Dap-Kings
and Doyle Bramhall II
6/5     Paso Robles, CA            Vina Robles Amphitheatre   +
6/6     Berkeley, CA                  Greek Theatre  +
6/7     Santa Barbara, CA         Santa Barbara Bowl +
6/9     Las Vegas, NV                Pearl Concert Theater at Palms Casino Resort +
6/10   Los Angeles, CA             Greek Theatre +
6/12   Salt Lake City, UT          Red Butte Garden +
6/13   Morrison, CO                  Red Rocks Amphitheatre +
6/14   Snowmass, CO                Snowmass Mammoth Festival +
6/17   Oklahoma City, OK        Zoo Amphitheatre +
6/19   Minneapolis, MN           State Theatre + * (w/ Rich Robinson Band )
6/21   Highland Park, IL          Ravinia Festival +
6/23   Rochester, MI                 Meadow Brook Music Festival  +
6/25   Rochester, NY                 Eastman Theatre (Rochester Jazz Fest)  +     sold out
6/26   Cincinnati, OH               PNC Pavilion +
6/27   Huber Heights, OH       Rose Music Center at The Heights +
7/10   The Woodlands, TX       Cynthia Woods Mitchell Pavilion +
7/11   Dallas, TX                         Gexa Energy Pavilion +
7/12   Austin, TX                       Austin360 Amphitheater +
7/15  Charlotte, NC
7/17   Alpharetta, GA                Verizon Wireless Amphitheatre +
7/18   Cary, NC                          Koka Booth Amphitheatre +
7/19   Cleveland, OH                Jacobs Pavilion at Nautica +
7/22  Boston, MA                     Blue Hills Bank Pavilion +
7/24 Portland, ME                   Maine State Pier +
7/25  Gilford, NH                     Bank of New Hampshire Pavilion at Meadowbrook+
7/26    Whitehouse Station, NJ New Jersey Festival of Ballooning; Solberg Airport +
7/29 Saratoga Springs,  NY     SPAC +
7/31    Bridgeport, CT              Gathering of the Vibes +
8/1     Baltimore, MD               Pier Six Pavilion +
8/2     Philadelphia, PA           Mann Music Center +
8/4     Lewiston, NY                 Artpark +
2016 TOUR DATES
1/16  St. Petersburg, FL      Vinoy Park / Sunshine Music Festival
1/17  Boca Raton, FL l         Mizner Park/ Sunshine Music Festival
1/19  Augusta, GA                Bell Auditorium
1/20 Jackson, MS                Thaila Mara Hall  w/ Shannon McNally
1/22 Chicago, IL                  Chicago Theatre  w/ Leon Russell
1/23 Chicago, IL                  Chicago Theatre
1/26 New York, NY             Apollo Theater  – Record Release show
2/18 Glenside, PA               Keswick      w/ Shawn Mullins
2/19 Glenside, PA               Keswick       w/ London Souls
2/20 Glenside, PA              Keswick
2/25 Washington DC         Warner Theatre  w/ Jorma Kaukonen
2/26 Washington DC         Warner Theatre w/ Honeycutters
2/27 Washington DC         Warner Theatre
3/3 Nashville, TN              Ryman Auditorim w/ Brothers Osborne
3/4 Nashville, TN              Ryman Auditorium w/ Junior Brown
3/5 Nashville, TN              Ryman Auditorium
March 19 – 26 – Australia
March 30 – April 1 Japan
4/16-17  Charleston, SC           Southern Ground Music and Food Festival
4/20 Kansas City, MO      Arvest Bank Theatre at The Midland
4/21 Ames, IA     Stephens Auditorium
4/23 Birmingham, AL     Legacy Arena at The BJCC  w/ Widespread Panic
4/24 Cleveland, MS        Dockery Farms
4/28 New Orleans, LA   Jazz & Heritage Festival
5/7 -8 Buffalo, NY            UB Center for the Arts  w/Amy Helm & The Handsome Strangers
5/10 Syracuse, NY             Crouse Hinds Theater  w/Amy Helm & The Handsome Strangers
5/12 Hershey, PA               Hershey Theatre   w/Amy Helm & The Handsome Strangers
5/13 Newark, NJ                New Jersey Performing Arts Center
5/14 Atlantic City, NJ       Boardwalk Hall Arena   w/Amy Helm & The Handsome Strangers
5/27 Cumberland, MD     DelFest
6/3 – 6/5  Denmark, Holland, Germany
6/11 Sea Island, GA           Southern Grown Festival
6/16 South Bend, IN        Morris Performing Arts Center
6/17 Grand Rapids, MI   Meijer Gardens Amphitheatre
6/18 Aurora IL                  20th Annual Blues on the Fox Festival
6/25 Winnipeg, MB         Burton Cummings Theatre
TD Winnipeg International Jazz Fest
6/26 Saskatoon, SK         Delta Bessborough – Garden Court Cafe
TD Saskatoon International Jazz Fest
6/28 Vancouver, BC        Royal Theatre
TD Victoria International Jazz Fest
7/1 Portland, OR               Waterfront Blues Festival
7/3 Quincy, CA                    High Sierra Music Festival
WHEELS OF SOUL 2016
with Los Lobos and North Mississippi Allstars
7/8 Rochester, NY       Highland Bowl Amphitheatre
7/9 Marshfield, MA    Levitate Music & Arts Festival
7/10 Greenfield, MA   Green River Festival
7/13 Saratoga, NY       SPAC
7/15 Bangor, ME         Darling's Waterfront
7/16 Gilford, NH         Bank of New Hampshire Meadowbrook
7/17 Vienna, VA           WolfTrap
7/20 Bethel, NY          Bethel Woods
7/22  Cary, NC             Koka Booth Amphitheatre
7/23 Alpharetta, GA   Verizon Wireless
7/24 Charlotte, NC     Uptown Amphitheatre
7/27 Indianapolis, IN  Farm Bureau Insurance Lawn at White River State Park
7/29 Huber Heights, OH   Rose Music Center
7/30 Cincinnati, OH   Riverbend
7/31 Sterling Heights, MI  Freedom Hill
8/2  Tulsa, OK               Brady Theater
8/4 Albuquerque , NM Sandia Casino Amphitheater
8/5 Morrison, CO          Red Rocks
8/7 Salt Lake City, UT  Red Butte Gardens
===========